We apologise for the delay in proper diary entries. This is due to Mr Edwards feeling a bit more poorly and low than usual, and having to fend off inner cries of 'Oh Heavens, what's the point of it all, I should have joined the Marines.'
Whilst we are waiting for Mr Edwards's brain to start working again, our crew will be passing among you shortly to serve complimentary asterixes.
***
In the meantime, here's some music.
I've been enjoying the TV programme Ashes To Ashes lately. A glamourous if haughty person who lives in a bizarre 80s world that could all be part of their damaged imagination…
but enough about me.
Here's some 80s pop videos I've been using to crack the ice of my moping mindset. They're always playing inside my head, but for those of you yet to get telepathy in your area (I hear it lost out in the format wars to Blu-Ray), click on the stills to drink from the addictive if calorie-free charms of Ms YouTube:
The Waitresses: I Know What Boys Like (1982)
If the formula to a good pop song is to make it sound like a child's nursery rhyme – or a child's playground jeer –  this is a pretty perfect exponent. Note the now utterly anachronistic use of smoking in an MTV video, and the sax player's red tie with black shirt. Yes, Shampoo covered this song in the 90s. And yes, the Waitresses also did 'Christmas Wrapping'.
Here's the reverse of the red & black look, as modelled by a Style Council backing singer turned solo:
Tracie: The House That Jack Built (1983)
Doesn't she look wonderful? Tracie Young walks onstage to the kind of raucous wolf whistles one might associate with a burlesque turn, yet she remains fully buttoned up in black suit with long sleeves & trousers, padded shoulders, shiny tie, and red pocket square hanky. It's like a New Romantic Burka. One day, someone will start a religion where everyone dresses this way forever. It may have to be me.

Berntholer: The Choice (1981)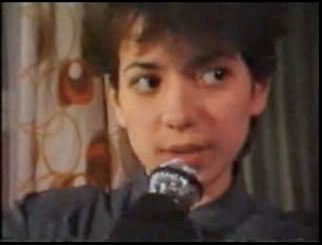 Rather more obscure, this is a charming example of what else was going on at the more alternative end of the early 80s pool. I was reviewing a compilation of Belgian 'Cold Wave' bands last year (released on LTM Records), and fell belatedly in love with this gaggle of art-pop types, channelling the Factory Records scene in their own odd and lovely way. A bit like the Liquid Sky soundtrack, and a bit early Altered Images too, what with all the child-like posing and smirking. Note the singer's gloves: is it cold, or is it the 80s? I ask myself that question daily.
Aztec Camera: Oblivious (1983)
Roddy Frame + 80s hair and make-up = Alan Cumming now. And an Ivor Cutler introduction too. What's going on with all the Tarot cards? Am I mad, in a coma, or reading Dickon Edwards's diary? Note the jeans. Hey, Aztec Camera: good of you to 'turn up'.